It's a good time to check on how things are going on the confederate heritage front.
This article tells us Biloxi is removing Jefferson Davis's name from one of its schools. "A Mississippi district is removing Confederate President Jefferson Davis' name from an elementary school and has chosen a new name that highlights geography rather than history. Back Bay Elementary will be the new name of the school in Biloxi. The local school board approved the change Nov. 17 after a committee discussed dozens of possibilities, WLOX-TV reported. New signs will go up on campus in January. Davis was a U.S. senator from Mississippi before the Civil War. At the end of his life, he lived in a Biloxi home called Beauvoir, which faces the Gulf of Mexico. Davis died in New Orleans in 1889, and Beavoir has been a museum for decades. … The Biloxi School District announced in September that it would rename Jeff Davis Elementary, which was built from 1960 to 1961. Around the South, schools were often named to honor Confederate figures during the 1950s and 1960s, as a way of demonstrating opposition to the Supreme Court's 1954 ruling in Brown v. Board of Education that segregated schools were unconstitutional. The first Black students arrived at Jeff Davis Elementary in August 1964. A group of Black parents, led by civil rights leader Dr. Gilbert Mason, had won a victory at the 5th U.S. Circuit Court of Appeals that year, which required the district to desegregate 'with all deliberate speed.' Today, about 18% of Jeff Davis students are Black, according to the Mississippi Department of Education. About 11% are Hispanic or Latino, 56% are white and 9% are two or more races."
This article refers to Stone Mountain in Georgia, an iconic spot for racists and KKK members. It tells us, "Advocacy groups have been demanding for changes to be made at Stone Mountain Park in regard to its Confederate imagery. But it could be next year before the Stone Mountain Memorial Association can make any changes. Stone Mountain Park was the site of several demonstrations over the summer. A coalition of citizens and activists have again asked the board in charge for changes. 'Our mission is to end hatred and racial discrimination, and it starts with Stone Mountain Park,' said Teresa Hardy with the NAACP DeKalb branch. Hardy wants the Stone Mountain Memorial Association to remove Confederate imagery, including the names of the streets, flags flying by the walk-up trail and the carving itself. 'The NAACP calls for the three figures on the mountain to be resculpted. We also call for all references to the Confederacy to be eradicated,' she said. But that's not as simple as the demand sounds. Georgia law compels the Stone Mountain Memorial Association to maintain an 'appropriate and suitable' memorial to the Confederacy. But the Stone Mountain Action Coalition believes that's open to interpretation. It wants to see the memorial association issue an anti-racism statement and commit to a comprehensive redesign of the entire park." Of course, white supremacists are pushing back, especially through one of their groups, the SCV: "But there are opponents to the proposals, including the Sons of Confederate Veterans. Some point out the park is Georgia's most popular park and said there shouldn't be any changes. 'My God have we lost our minds? You can destroy a statue, but you cannot change history. Do you want to hide it or do you want to learn from it?' Dennis Elm said." That's nonsense. The sculpture isn't history, and no one learns anything from it. The article concludes, "SMMA CEO Bill Stephens promises to listen to all the proposals and come back with recommendations by next spring. 'The goal is to bring Stone Mountain into the 21st Century and to vet the ideas that we have, all kinds of ideas and proposals,' he said."
Also in Georgia we have this article, which tells us, "After a summer of protests, Augusta Mayor Hardie Davis Jr. created a task force of 11 people to come up with a plan regarding several monuments, roads and landmarks that honor Confederate military officers. Four months later, that task force has a plan for changes its recommends and the ways to make that happen. Some say its history, while others say it's a taunting message. 'We want to be able to be proud of living in Augusta, so the only way we can do that if we're being represented properly,' Morris Porter with the CSRA National Action Network said. Augusta's Task Force on Confederate monuments says it's come up these things it wants to change:
Renaming the Calhoun Expressway, Gordon Highway and Fort Gordon.
Removing signage and monuments connected to Jefferson Highway.
Relocating monuments that stand on Greene Street and Broad Street.
'This is a divisive mechanism keeping us from being able to unite.' Porter is a member of the National Action Network, one of many organizations fighting for the removal of landmarks like these. 'I see that is a positive step forward and it's on leadership now to make the decisions,' Porter said. It's a decision in the hands of the commission, but change won't come easy. Like six other states, Georgia has laws that make it difficult to remove Confederate landmarks. The law states military memorials cannot be altered unless to preserve, protect, or help interpretation. And monuments cannot be moved from public view, but they can be moved to another public property. That is the idea behind moving the Broad Street monument to Magnolia or West View Cemetery and requesting St. James United Methodist Church house the Greene Street monument. And renaming a federal facility like Fort Gordon is not a local decision. But Porter says until they see change, the conversation will continue. 'We're going to stay vigilant. We're going to stay engaged,' Porter said. The commission was supposed to discuss the task force recommendations Tuesday, but that meeting ran a little long. Another meeting has been called for next Tuesday to discuss and possibly vote on this recommendation."
Moving to Virginia, we have this article from Portsmouth, which says, "After months of input from the community and two public hearings, the Portsmouth School Board voted Thursday to officially rename three schools whose names were linked to the Confederacy. Woodrow Wilson High School will be renamed Manor High School (the school's former name before it was consolidated with two other high schools in 1993); James Hurst Elementary will be renamed Cradock Elementary; and John Tyler Elementary will be renamed Waterview Elementary. The call to change the school names came as part of the national debate of renaming buildings, monuments and other institutions originally named for Confederate leaders or others who supported racial injustices including slavery and school segregation. The debate also happened throughout Hampton Roads. In September, the Newport News School Board voted to to rename the schools on Tier 1: Epes Elementary, Lee Hall Elementary, Nelson Elementary and Dozier Middle Schools. Throughout the rest of the school year, school maintenance and operations will be in the schools to make the requisite updates to the buildings, including signage and painting. The changes will take place beginning July 1."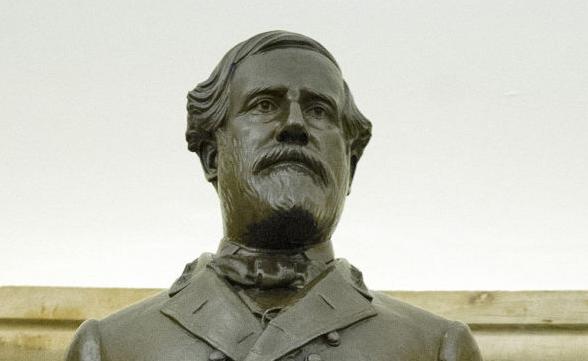 We also have this article from Richmond, in which we learn, "A state panel charged with recommending a replacement for Virginia's Robert E. Lee statue at the U.S. Capitol has set a Dec. 16 meeting to make its decision. The Commission For Historical Statues In The United States Capitol is expected to make its recommendation to the General Assembly at the 3 p.m. meeting. The panel has been meeting virtually amid the pandemic. Details on how to attend will be posted at dhr.virginia.gov/uscapitolcommission/. The Virginia Department of Historic Resources is researching potential honorees suggested to the panel in correspondence and in public comments. It is helping develop a list of five finalists for the panel's consideration. Correspondents suggested more than 70 potential honorees to the panel. The names mentioned most often are:
George C. Marshall
U.S. Army chief of staff during World War II who also served as secretary of state and secretary of defense. He is perhaps best known for the Marshall Plan to rebuild Europe after the war.
Oliver W. Hill Sr.
a civil rights attorney who fought discrimination on a host of issues in state and federal courts. Hill was an attorney in the Farmville case that became part of Brown v. Board of Education, in which the U.S. Supreme Court ruled government-segregated public schools unconstitutional.
Barbara Johns
who led the walkout at Farmville's Moton High School in 1951 to protest the students' substandard, segregated school facilities. Johns' protest as a 16-year-old led to the Farmville case that rolled into Brown v. Board of Education.
Pocahontas
an important translator and bridge builder between Native Americans and the English.
Maggie L. Walker
the entrepreneur and civil rights leader who was the first African American woman to charter a bank in the U.S.
"Others suggested most frequently included Booker T. Washington, educator, prominent African American leader and first head of the Tuskegee Institute. Robert Russa Moton, an administrator at Hampton Institute who followed Washington as leader of Tuskegee Institute and had a long career of public service; James Madison, architect of the Constitution and the fourth U.S. president; Katherine Johnson, a pioneering NASA mathematician; and John Mercer Langston, Virginia's first African American member of Congress. Several dozen correspondents suggested retaining the Lee statue. On Aug. 7 the state panel unanimously recommended that the Lee statue be moved to the Virginia Museum of History & Culture, which has agreed to take ownership."
Finally, we have this article regarding the Lee statue at Antietam National Battlefield. According to the article, "A proposal to remove a controversial statue of Confederate Gen. Robert E. Lee at Antietam National Battlefield is expected to be up for a vote this week in the U.S. House of Representatives, according to a spokeswoman for Congressman David Trone. House Resolution 970 is headed to the House floor following work by Congressman Anthony Brown, who has been "leading the charge" on the plan, said Trone spokeswoman Hannah Muldavin. Trone, D-6th District, who represents Washington County, has been a co-sponsor of the resolution. Muldavin said the resolution is expected to pass the House. The U.S. Senate would be the next step. It was which day the measure might be taken up, but Muldavin said it could be considered along with the National Defense Authorization Act, a large appropriation that funds the nation's defenses. Brown, a Democrat who represents Maryland's 4th District, initially introduced a resolution calling for the removal of the statue in 2017 following a deadly gathering of extremists and counterprotesters in Charlottesville, Va. The bill stalled in the House. Brown reintroduced the resolution in the current session. Following the death of George Floyd in Minneapolis police custody in May and resulting protests and conversations about racism, Congress is taking another look at the proposal, Brown spokesman Christian Unkenholz said previously. The statue along Shepherdstown Pike near the Newcomer House just outside of Sharpsburg has been vandalized at least twice since June. In one incident graffiti was scrawled on it that read 'BLM' and 'You lost the war.' The graffiti was covered by the National Park Service until it could be removed. The 24-foot likeness of the Confederate general atop a horse was erected on private land in 2003. The U.S. Park Service acquired the land two years later and incorporated it as part the battlefield. On July 21, the House Natural Resources Subcommittee on National Parks, Forests and Public Lands held a hearing on Brown's resolution, which calls for the U.S. Department of the Interior to develop a plan to remove the statue. The Department of the Interior would also be required to submit a time line to Congress for the work, according to Brown's proposal. During the hearing, Brown made his case for removing the statue by saying Confederate monuments in national parks glorify 'traitorous leaders, their cause of slavery and open rebellion against the United States of America.' " This statue has nothing to do with Civil War veterans, and if any statue ought to be removed, this one could easily be removed.