In our first article, from McKinney, Texas, we learn, "Another step will be taken towards determining the long-term fate of a statue of James Throckmorton, which currently sits on McKinney's downtown square. On Tuesday night, the Ad Hoc Advisory Board tasked with gathering information and public input about the statue will present its research and findings to the McKinney City Council. Throckmorton was a brigadier general for the Confederate Army during the Civil War. He also was Governor of Texas before being removed because of his opposition to reconstruction. He spent much of his life in or near McKinney, where he practiced medicine. The fate of his statue, which was erected in 1911, has been under discussion by civic leaders for much of the year, as many cities around the state and country decide what to do with monuments to individuals who served on the losing side of the Civil War. After significant debate that at times resulted in tense moments in the council chambers, McKinney elected to form an Ad Hoc Advisory Board of citizens, which met three times during August and September. The council will hear presentations, previews of which are available in the council's agenda, from staff and two members of the Ad Hoc committee. City staff will present findings from the three meetings and give results of its studies of public opinion. During the final Ad Hoc meeting, which featured a period for public comment, 10 speakers favored leaving the statue in place, while seven favored statue relocation and one did not share an opinion, according to a draft of the presentation. There also was a public input survey conducted between Sept. 10-Sept. 27. Of 1,781 McKinney residents, the majority who took part favored leaving the statue in place. Justin Beller is set to present on behalf of committee members. His presentation will provide background on Throckmorton and lay out the history of who erected the statue and why, utilizing clips from the McKinney Democrat-Gazette dating between 1904 and 1911. The intent of the groups erecting the statue, the United Confederate Veterans and United Daughters of Confederacy, has been the subject of some debate, with other advisory members pointing out the base was erected by a different organization and the Women's Federated Clubs of McKinney was also involved in raising money for the statue. Beller's presentation ends with what appears to be a recommendation to relocate the statue to the Collin County History Museum."
This article tells us the North Carolina Sons of Confederate Veterans group is under investigation for their shady activities. "Board of Elections Investigator Matthew Martucci has what one neo-Confederate describes as 'a thick-ass file' in an ongoing investigation that's scrutinizing the N.C. SCV for running the Heritage PAC in violation of its own tax-exempt status, and funding it through a separate illegal scheme for years, according to multiple people familiar with the matter, including the PAC's co-treasurer and a dissenting SCV member who is assisting the investigation. Martucci declined to comment. Since its inception in early 2016, the Heritage PAC has allowed the neo-Confederate group to raise money from its underlings, shuffle it to supportive Republicans under a different name, and avoid paying taxes on the effort by exploiting nonprofit law. The Heritage PAC has given at least $28,500 to various Republican campaign committees since it launched, including $3,500 to Agriculture Commissioner Steve Troxler—who has for years ensured a booth for the N.C. SCV at the Raleigh State Fair—and $2,500 to both House Speaker Tim Moore and Senate President Pro Tempore Phil Berger. Experts who've analyzed reporting gathered by the INDY, including a former North Carolina assistant attorney general, say some N.C. SCV officers appear to have committed multiple misdemeanors and at least one felony in their PAC activity. Those charges could be recommended by Martucci's investigation, though additional approval within the Board of Elections is required for indictments. On July 22, the Heritage PAC went inactive: not dead, just dormant. It hasn't made any campaign contributions in 2020, despite this being a major election year in local and state races. But it incurred one expense of note: $5,000 in 'attorney fees' paid on February 18 to Brian LiVecchi, a litigation attorney with Cumalander Adcock LLP. LiVecchi couldn't be reached for comment."
According to the article, "The neo-Confederate group's leaders received certification to run the Heritage PAC from the Board of Elections in February 2016. Their initial filing before that certification described the PAC's political purpose as 'supporting candidates who support North Carolina's heritage' and named the N.C. SCV as its 'connected organization.' But that's a fundamental problem; the N.C. SCV has always been forbidden from running a PAC. That's because, for more than a decade, the neo-Confederate group has enjoyed a 501(c)(3) status with the U.S. Internal Revenue Service. Broadly speaking, the IRS grants this status to organizations that exist only for 'charitable purposes.' The perks include not having to pay federal, local, or property taxes. But for these privileges, 501(c)(3)s are, among other things, 'absolutely prohibited from directly or indirectly participating in' political campaigns, according to the IRS website. The Board of Elections flirted with this issue in an early audit of more than $1,700 the Heritage PAC took from the N.C. SCV, but it later green-lit the money after the N.C. SCV sent a letter saying the contributions complied with state law. This green light was incorrect, say experts who've assessed the case, including John Wallace, former Assistant Attorney General in the N.C. Department of Justice's Antitrust Division. 'What was omitted from all of that discussion, and what is absolutely inherent in the proper resolution of the issue, is that if you are a 501(c)(3), you are absolutely prohibited from intervening in political campaigns,' Wallace says."
In what appears to be some chicanery, "The Heritage PAC took a new funding approach that dodged any mention of the N.C. SCV in its future disclosures: gathering mass donations from within the statewide SCV chapter, getting hundreds of mostly-unwitting members to claim slices of the money, and pumping each slice into the Heritage PAC as an individual contribution, disconnected from the SCV. The strategy is akin to one faucet pumping a single stream of water into, say, 150 different filters that all lead into the same cup. In this case, the faucet water is the N.C. SCV's money, the filters are N.C. SCV members laundering the money, and the all-encompassing cup beneath them is the Heritage PAC. This kind of tactic has a name in campaign finance circles: 'Contributions in the name of another.' Wallace says it's a Class II misdemeanor. 'A statement made under oath, such as that made by a treasurer 'knowing the information to be untrue,' is guilty of a Class I felony,' Wallace adds." We'll see if a NC State Prison chapter of the SCV opens in the future.
We have this article from Brunswick, Georgia, that tells us, "Brunswick Mayor Cornell Harvey does not expect the vote at the Nov. 4 Brunswick City Commission meeting to finally determine the fate of a Confederate monument in Hanover Square. If commissioners follow the overwhelming sentiment of the dozens who spoke against the monument at public meetings, Harvey believes the commission will vote to remove it and relocate it or put it in storage. And if that happens, Harvey said the city can quickly expect a legal challenge from those who want the monument to remain where it has stood since 1902. 'I think we'll get dragged into a courtroom,' he said. 'It's going against state law.' While there is a state law prohibiting the removal of Confederate monuments, there have been recent successful legal challenges in other Georgia cities to remove or relocate them. Harvey said he hopes the people who are adamant that it be removed will hold fundraisers or make donations to help the city pay the legal fees for voting to do the will of the people. There were discussions about letting voters decide the monument's fate in a city referendum, but Harvey said commissioners will make the decision Nov. 4, despite the political fallout certain to come and regardless of their choice. Harvey said he can't speak for other commissioners and doesn't know how they will vote, but he has already made up his mind. A lifelong city resident, Harvey said the Confederate monument has been a personal sore spot his entire life. He wants it removed. 'It drums up a lot of emotion about things that happened to me,' he said. 'There have been scars. As for me, I'm not wavering in my thought process.' He pointed out that many people have said that they never realized the Confederate monument was even there until it was defaced with spray paint earlier this year. But Harvey said residents living in the mostly Black neighborhoods adjacent to Hanover Square are very aware of its existence. They have to look at it every day, and Harvey said they have been reluctant to complain about it, partially out of fear. Harvey said there are still White people in the city who have a somewhat distorted view on what is acceptable to Blacks who have lived near the monument for decades. They incorrectly think Black residents have no problems with a Confederate monument across the street from their homes, he said. 'Nobody could say anything,' Harvey said. 'The White folks said, 'These are our Blacks, and they know their place.' ' " That says it all, doesn't it?
This article tells us the Huntsville, Alabama confederate monument took its trip away from public view. "The Confederate monument in downtown Huntsville, an ongoing source of protest in the Rocket City, was removed after midnight Friday morning from the grounds of the Madison County Courthouse. The statue of the unnamed Confederate soldier atop the monument was sawed off at the base and lifted away by a crane about 1:20 a.m. A crowd of about 30 people cheered as a stereo blasted the Kool & The Gang classic 'Celebration.' A small segment of the monument base was removed about 3 a.m., an event greeted by more cheers and applause. At that point, however, most of the remaining crowd left as crews continued work on the lower part of the base. Another portion of the monument was lifted away by a crane about 3:47 a.m. A fourth piece was taken away about 4:45 a.m. and crews began work on removing the fifth and final piece. The monument is expected to be relocated to Maple Hill Cemetery at the Confederate cemetery within the city-owned cemetery. Crews were at work Friday morning erecting the monument at the cemetery. The dismantling of the monument comes months after Confederate monuments were also removed in Birmingham and Mobile. In those cases, the cities removed the monuments without permission and paid the $25,000 fine outlined in the state's monument law. 'It's long overdue,' said Remus Bowden of Huntsville, who has frequently addressed the Huntsville city council and the Madison County Commission seeking to have the monument removed."
The article also tells us, "Supporters of the monument were also present on the south side of the courthouse square to watch what several people described as 'history.' 'It's never been a problem,' said Greg Miller, who lives in the Ryland community outside of Huntsville. 'I don't know why it has to be moved.' Miller also said he believed the county commission did not have legal grounds to remove the monument, which was erected in 1905 by the Daughters of the Confederacy. The base of the monument carries this inscription: 'In memory of the heroes who fell in defence (sic) of the principles which gave birth to the Confederacy.' The monument was defaced in August when red paint was splattered on it. A concerned citizen later used a pressure washer to clean much of the paint from the monument." Sound familiar?
The article also says, "Now that the monument no longer stands outside the courthouse, conversations about more serious issues can now take place, Bowden said. 'If you think about it, this was the stopgap between getting the equality that this city needs, bringing equity to all of the citizens here,' he said. 'Now this is a conversation that's dead. Now we can focus on getting some accountability for the events that took place here, that actually brought attention back to the monument.' The monument's demise was not a cause for celebration for everyone on the courthouse square. Miller said that most people in Madison County supported keeping the monument in place. 'There are a lot of folks in this county against this being moved,' he said. 'It's against their wishes. The county commission never has tried to do any polling or checking with the residents of this county. They have listened to small groups.' Miller said the business community — some of which openly lobbied to have the monument removed — were the motivation for the county commission more than the protesters. Downtown Huntsville Inc. was the first business to step forward and call for the monument's demise and other business leaders soon joined in."
Former confederate officer John Tyler Morgan, later a senator, spoke at the dedication of the Huntsville Monument. What he said is of interest:
It seems pretty obvious from the inscription and from the speech that this monument is a clear symbol of white supremacy.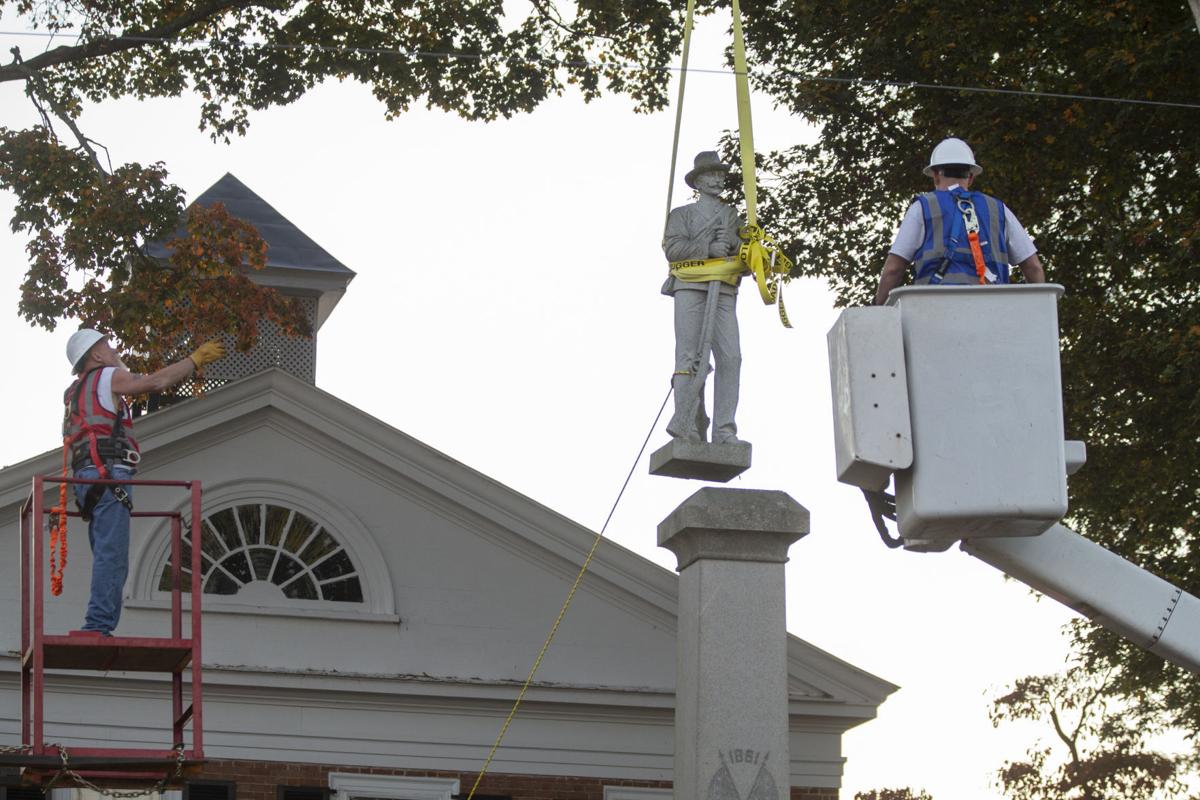 This article from Caroline County, Virginia, tells us, "When Vernessa Ware was growing up in Bowling Green in the 1950s and 60s, there were symbols of a massive divide between whites and Blacks in the town just about everywhere she looked. Ware attended segregated schools. She recalls a 'whites only' water fountain on Main Street and a movie theater in which whites sat downstairs while Blacks were relegated to the balcony. Ware slowly saw those signs of division disappear. The retired Caroline High School business teacher had another reason to rejoice, as what she considers an additional reminder of the area's dark past was removed. The monument of a generic Confederate soldier that had stood tall on the Caroline County courthouse lawn for 114 years was dismantled and relocated to nearby Greenlawn Cemetery on Saturday morning. Onlookers on Main Street cheered as the 24 pieces of the monument were taken apart one-by-one, while one man standing on Courthouse Lane said it was 'a sad day,' for the county. 'I tell you right now I'm so happy because it was something that was always there when we were growing up,' said Ware, who is Black. 'It was a sore spot because it was a reminder of slavery to all of us who lived in Bowling Green or went there to shop.' The 43-ton monument had stood since 1906, when it was donated to the county by the Bowling Green United Daughters of the Confederacy."
This article tells us, "From 1948 until just recently, residents and visitors to uptown Charlotte, North Carolina, could have strolled past a Confederate monument and not even known. On a busy, commercial street, in front of a FedEx store, the tombstone-like memorial honored Judah P. Benjamin, a Jewish southerner and the Secretary of State to the Confederacy. Though Benjamin had no connection to Charlotte—his only tie was a week he spent hiding there after the end of the Civil War—the United Daughters of the Confederacy presented the granite monument to the city, choosing the spot of his supposed few days in hiding. As the monument itself explains, two local synagogues, whose names were inscribed on it, provided the funding. But almost immediately after its erection, the Jews of Charlotte regretted their decision after anti-Semitic comments led them to reconsider with whom they were associating themselves. More recently, the synagogues have lobbied city leaders, writing letters urging that the monument be removed, but the officials had insisted their hands were tied, citing a state law prohibiting the removal of Confederate monuments unless transferred to a site of equal prominence. Meanwhile, steps away from the monument, a new Black Lives Matter street mural, commissioned by the city, burst into colorful view this summer. Around the same time, city workers finally extracted the Benjamin stone after a protestor spray-painted it with 'BLM' and took a sharp implement to it, though a spokesman says the city is 'evaluating how best to preserve' it. During the High Holiday season, when Jews traditionally celebrate the Jewish new year and atone for their sins, is a particularly poignant time to ask: Why did the Jews of Charlotte agree to fund this memorial? How could Benjamin reconcile his support for slavery with his faith and background? How did that square with Passover, when Jews give thanks for freedom and remember they were once enslaved in Egypt?"
According to the article, "These questions aren't simple to answer as Benjamin, powerful enough in the Confederacy to merit being placed on their $2 bill, burned all his personal papers. This absence makes it even more difficult for historians to confirm details of his life and easier for others to ascribe a variety of motivations to Benjamin, sometimes reflecting their own politics and needs. Benjamin grew up in slaveholding societies. Born on St. Croix in 1811 during Britain's occupation of the Danish West Indies, he spent his formative years with his Sephardic Jewish parents and siblings in Charleston, South Carolina. His auspicious rise might suggest a life of wealth and ease from the start, but his family had to scrape together an income. His father, Philip, 'was unsuccessful at everything he tried in business,' writes Eli Evans in Judah P. Benjamin: The Jewish Confederate, while his mother, Rebecca, 'held the family together financially by running a small fruit shop on King Street near the docks.' At age 14, he departed for Yale but was kicked out two years later for reasons that aren't clear. After moving to New Orleans, Benjamin married a girl he'd tutored in English, apprenticed in the law, where he thrived, and joined the Louisiana legislature in 1842. He also purchased a sugar plantation named Belle Chasse in 1844 with another investor, along with 140 enslaved laborers to work it. Benjamin was one of the relatively few Jewish slaveowners, in part because most Jews couldn't afford to own slaves. He pursued plantation life partly because he saw himself as a gentleman. Southern notions of gentility were intertwined with slaveholding, says Adam Mendelsohn, director of the Kaplan Centre for Jewish Studies at the University of Cape Town in South Africa. 'The logic was that southern gentlemen were more cultivated and refined because slavery allowed them more time for personal development,' he says. Being a 'gentleman' influenced Benjamin's rhetoric, his attachment to a particular code of honor, and even the dapper way he dressed. After selling his share of Belle Chasse in 1852 following a flood and crop failure, Benjamin was named to the U.S. Senate and even declined an offer from President Millard Fillmore to nominate him to the U.S. Supreme Court. These achievements came without Benjamin embracing Judaism or participating in any form of Jewish communal life, but not denying that he was a Jew, either. Like many other groups, some Jews in the South supported slavery, some opposed it, and some were neutral, argues Shari Rabin, a professor of Jewish studies and religion at Oberlin College. Many Jews struggled during wartime as peddlers or merchants and relative newcomers from German-speaking lands. They were 'living in a predominantly Christian but also white supremacist society and trying to navigate as best they could,' Rabin says."
The article continues, "Those who favored slavery may have been complicit as part of an unspoken bargain, adds Jonathan Sarna, professor of American Jewish history at Brandeis University and co-author of Lincoln and the Jews. Some Jews at that time 'are tremendously eager to prove their loyalty to the South, maybe because it's questioned. So they out 'southern' the Southerners in a sense to prove their patriotism and loyalty,' he says. 'There is a kind of deal, unstated, that as long as you support and don't seek to overturn the racial status, well, we'll accept you as good white people.' That didn't stop Benjamin's faith from becoming a cleft between him and his fellow Christian senators. During one debate in 1858, Senator Benjamin Wade of Ohio spat that Benjamin was nothing more than an 'Israelite with Egyptian principles.' Benjamin's speeches, among the rare sources scholars can use to understand his biography, show why he would become a leader of the Confederacy and a figure prominent enough to be memorialized in Charlotte. He blamed those who would undermine the South's right to enslave for tearing the Union apart. 'The South have said over and over again, that all they ask, all they ever asked…was to be let alone. All they desire…was that legislation in the northern States should leave southern rights and southern property free from further aggression,' Benjamin contended in one address. Blaming abolitionists wasn't entirely uncommon. 'Abolitionists are seen as radicals and crazy troublemakers by many Americans before the war,' says Mendelsohn. Benjamin made his southern sympathies clear in his farewell remarks to the Senate in 1861: '[Y]ou never can subjugate us; you never can convert the free sons of the soil into vassals, paying tribute to your power; and you never, never can degrade them to the level of an inferior and servile race. Never! Never!' "
According to the article, "To celebrate its 1948 state convention in Charlotte, the North Carolina division of the UDC pitched the idea to the city's Temple Israel and Temple Beth El of erecting the monument, and the synagogues agreed. Best-selling author and humorist Harry Golden described what happened next in his book of essays about Jewish life, civil rights and other topics, For 2c Plain. According to Golden, a Charlotte resident, the local UDC chapter soon regretted the plan after an anti-Semitic letter writer from New York claimed that the monument would convince UDC members that 'local Jews' are 'good Jews,' adding 'even the 'good' ones work hand in hand with the most objectionable of their race.' The writer went on to proclaim Benjamin was 'nothing more than a communistic Jewish politician from the North.' Apparently swayed, the chapter pulled its support from the project. At this point, many of the temples' trustees were likewise 'all for dropping the granite into the Catawba River and forgetting the whole thing' Golden writes, and at least one rabbi tried to get the project cancelled. UDC members fought among themselves over what should be done, as the state chapter voted to accept the 'gift' while the local chapter argued before the Charlotte City Council that the monument's permit should be revoked. 'After a long and heated discussion,' Golden concludes, 'the Council voted to let the permit stand.' The UDC's proposal for the monument came soon after World War II and the Holocaust, when southern Jews still felt like outsiders in their communities, says Rabbi Asher Knight of Temple Beth El. He hypothesizes the Jewish community may have felt 'it was a big deal to have a Jewish person recognized, especially by a group of white southerners. I'm not sure they were thoughtful of how this was experienced by the black community in what was at the time a very segregated South.' When the local chapter revoked its support of the monument, Jewish leaders had 'the terrible realization that this wasn't inclusion at all, because the same anti-Semitic tropes, especially after the Holocaust, came out,' Knight says. As Knight wrote to his congregation, 'The monument does not belong in a place of prominence within our city, just like German cities do not memorialize or erect statues to Nazis.' Now that it is burrowed away in storage, the monument that no one truly wanted in the first place may be soon forgotten, but the history of Judah Benjamin, his role as enslaver and advocate of white supremacy, shouldn't be."
In this article from Richmond, Virginia, we learn, "With 22 proposals in hand for the Confederate monuments they took down this summer, Richmond leaders are grappling with practical and ethical concerns that come with divesting. How much money should the city expect to receive for the statues, which the city spent at least $1.8 million to remove? What responsibility should officials bear for ensuring the Lost Cause symbols are put in context, wherever they land? 'We need to be sensitive about their placement,' said 9th District Councilman Michael Jones. 'I'm concerned with where and how they'll be displayed.' Museums, historical associations, heritage groups and individuals all have expressed interest in what's available as a lawsuit lingers over the disposition of the state-owned tribute to Robert E. Lee on Monument Avenue. Meanwhile, the city is preparing to request a court order to move the burial remains of A.P. Hill that are underneath the statue of him that's still standing. 'The monuments should no longer be celebrated on boulevards or public squares, but relocated to places where they can be studied with proper historical context. Somewhere they can serve as a powerful reminder and warning for future generations, so history does not repeat itself,' said Mayor Levar Stoney. The process of determining where the symbols end up will likely extend into next year as lawyers vet proposals and negotiate terms, said Lawrence Rashad Anderson, the council's chief of staff." It looks as though Richmond will soon be rid of these granite symbols of white supremacy.
As we can see, confederate heritage is continuing its retreat from public view.