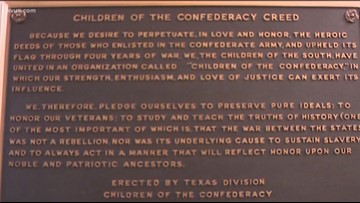 In this story we learn, "A plaque honoring the Confederate States of America in the Texas Capitol will be taken down after a unanimous vote from the Texas State Preservation Board. The plaque, which was installed in 1959, came under scrutiny in 2017, when Dallas state Rep. Eric Johnson called for its removal because it says slavery wasn't an underlying cause of the Civil War. The plaque features the so-called creed of the group Children of the Confederacy and claims the Civil War was not a rebellion.  'The … plaque has no rightful place in the Texas Capitol,' Johnson wrote in a letter to the Texas State Preservation Board, which manages the Capitol. 'The plaque is not historically accurate in the slightest, to which any legitimate, peer-reviewed Civil War historian will attest.' "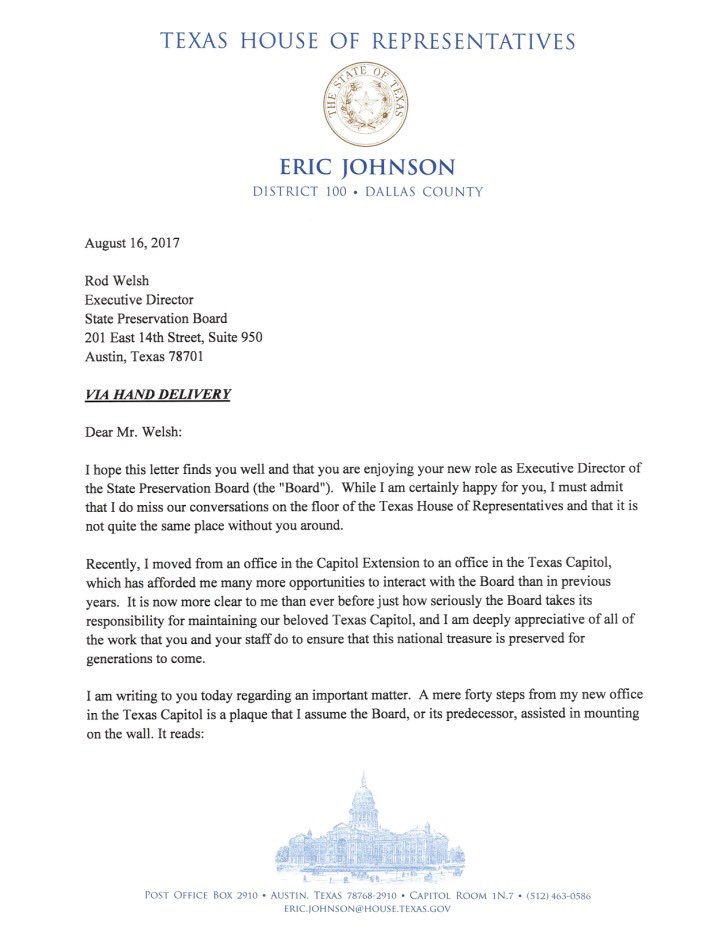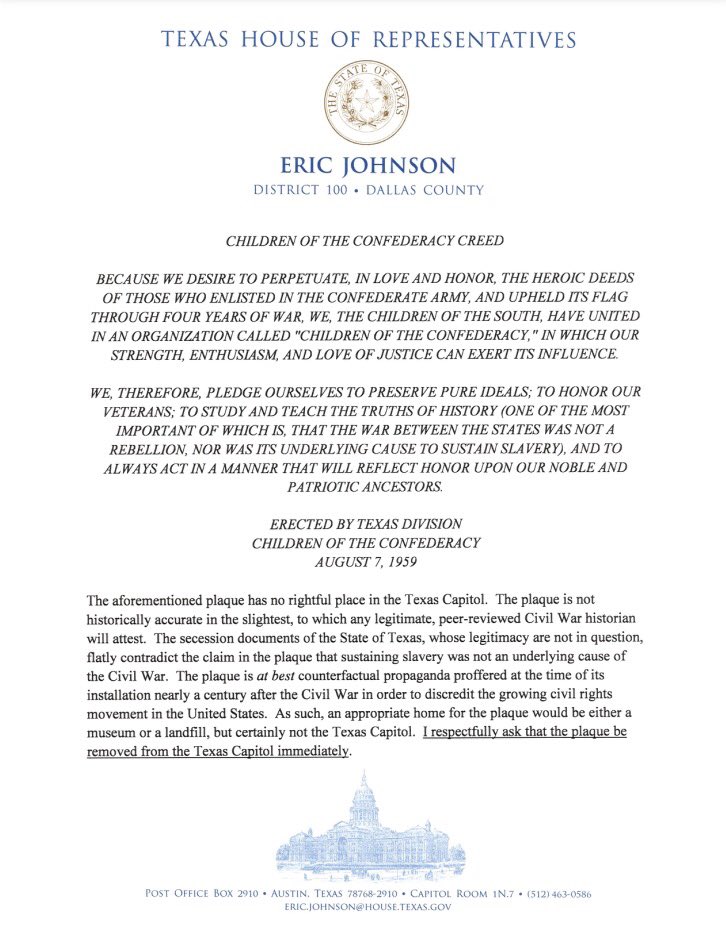 We also learn, "Johnson's campaign to remove the memorial garnered bipartisan support from lawmakers – including then-House Speaker Joe Straus – and he even met with Gov. Greg Abbott to discuss its removal in October 2017. Abbott has since suggested that lawmakers should take action to remove the plaque. Abbott is a member of the State Preservation Board, along with Texas House Speaker Dennis Bonnen and Lt. Gov. Dan Patrick."
The article also tells us, "In a November opinion, Attorney General Ken Paxton said lawmakers had the authority to remove the plaque, as the resolution that authorized its installation on behalf of Children of the Confederacy didn't prevent lawmakers from removing or relocating it. The resolution does say the state should 'determine the specific place of honor which this worthy plaque shall occupy.' "
We've heard the same tired, inaccurate, phony claim that this is erasing history, and a group from Missouri set up a hundred thousand robocalls to pressure legislators to keep the plaque in place. The article then corrects some of the historical claims on the plaque. "It should be noted, Texas' declaration of secession in February 1861 explicitly cites slavery – and the desire to continue practicing slavery – as a reason to leave the United States, according to the Journal of the Secession Convention of Texas:
[Texas] was received as a commonwealth holding, maintaining and protecting the institution known as negro slavery–the servitude of the African to the white race within her limits–a relation that had existed from the first settlement of her wilderness by the white race, and which her people intended should exist in all future time.
In November, the Texas State Board of Education voted to amend its curriculum to reflect that slavery played a "central role" in the Civil War."
This article about the move tells us, "Since the white supremacist violence in Charlottesville a year and a half ago, Texas officials have faced increasing demands to purge the statehouse of a plaque that says the Civil War had nothing to do with slavery. On Friday, in a cursory meeting lasting fewer than 3 minutes, a state board chaired by Governor Greg Abbott finally voted to remove the slavery-denying plaque from the Capitol, where it's hung since the civil rights era."
The article also says, "To Johnson and others calling for the removal of the so-called Children of Confederacy Creed, which is currently mounted on the main floor near the Capitol rotunda, the plaque should be part of a larger conversation around Confederate markers and monuments. While some Texas cities have toppled Confederate statutes or renamed schools honoring rebel generals, Abbott and other Republican leaders have largely been reluctant to talk about the plaque, let alone the numerous other Confederate markers prominently placed around the Capitol grounds."
It's about time the lies on that plaque came down. Now let's take a look at the lies on other confederate plaques and monuments.